This story in the end
IT'S THE START OF A NEW PATH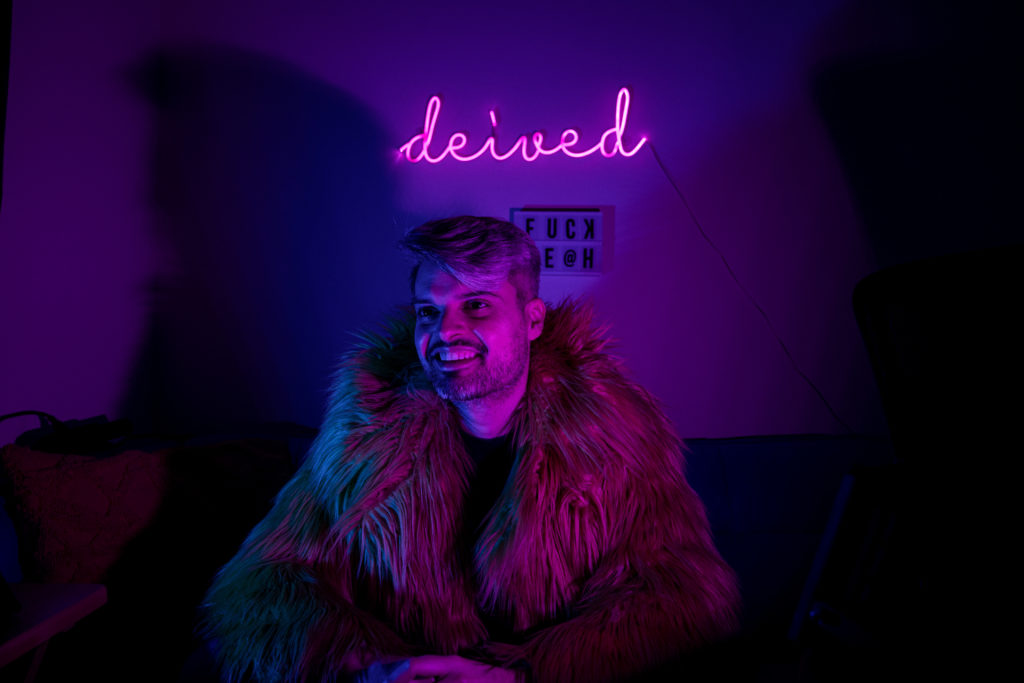 HOLY MOFONGO -
An endless passion for music, for Deived.
for discovery, for people, for life.
My life started out when I was born in Bayamon, Puerto Rico on November 13th, 1986 to Aida Moreno and David Hernandez. Growing up I was close with my family, spending most of my time between Grandfathers' houses up in the mountainous Corozal or with any one of my many aunts and uncles. I was very active in sports (ie. basketball and Taekwondo) and constantly focused on my core passion, music. Though my parents ended up separating when I was nine years old, I still spent a lot of time with each of them. They were quite supportive of me and my passions. My dad used to be very involved in my hobbies, even coaching my basketball team, Bayamon Vaqueros. At fourteen years of age, I started studying music theory and specializing in the bass guitar at the Conservatory of Music of Puerto Rico. My parents introduced me to different music genres and songs outside of typical Puerto Rican music, including English and Spanish pop rock, like the Beatles, Hector Lavoe, Shakira, Tony Croato and Pablo Milanes. This spurred my curiosity, leading me to discover some of my favorite bands like Blink 182, the Killers, Mana and Rush to name a few.
Tragically on December 28th of 2001, I lost my father. This pinnacle event in my life happened when I was only fifteen. In remembrance of my dad, I bought my favorite bass guitar, a Fender Jazz Bass. Though music was already important to me, it only filled more and more of my focus thereafter. I even spent time taking bass guitar lessons from Ricky Rodriguez, who would eventually end up playing as a regular in the Saturday Night Live band.
When it comes to making money, I've been working since I was sixteen starting out as a cashier in a supermarket and at a candy shop. Meanwhile, I was making music and touring with Red Tiger and La Manzana de Adan, picking up weekend gigs back-to-back. Never a dull moment. I studied Computer Science at the Interamerican University of Puerto Rico and took on roles in the marketing and technology realm as both a developer and a project manager, even running my own digital marketing business for a period of time. I'd built websites for other artists like Jowell y Randy and Jerry Rivera. While at the same time, I was taking vocal lessons from Pedro Tirado, who provided me the opportunity to sing on stage with the Symphony Orchestra of Puerto Rico. In 2010, my Mom bought me my first guitar. This encouraged me to get even more serious about writing and creating my own music. I was working for myself, playing in bands, writing music, and everything was coming together for me.
In the fall of 2017, Hurricane Maria landed on Puerto Rico. It was beyond devastating. Without electricity, reliable water resources, and without work, my life came crashing to a halt. Within a few weeks, I had no choice but to rise up from the ashes and forge a new path forward. I said goodbye to Puerto Rico, for the first time. The destination was my friend's sofa in Chicago with my guitar, about two week of clothing, and a hunger to succeed no matter what. I bombarded job boards with my resume and dove into my music writing. That's when I put together "Said Goodbye", my first song which would later come out on my birthday, November 13th in 2021.
During this period, I also help manage my friend's music merch store in Pilsen, MetalKid. That's where I ended up meeting another musician, Pepe de Lucio, who had his own musical project called Ronin in the works. We spent a lot of time jamming, moved in together, and even toured the midwest. This was an interesting time for me, because I'd been playing English and Spanish pop-rock up until this point. Pepe introduced me to electronic synthwave. This is when I bought my first Korg Minilogue synth and began experimenting even more with my own music. It enabled me to finish my own song, "Said Goodbye". During this time, I also acquired a job at a marketing agency in the northern suburbs of Chicago and moved into my own studio apartment on the 32nd floor of a high-rise overlooking Willis Tower. The view was an inspiration to me.
This period of time was a whirlwind for me. My time was consumed by work, making music, and running my new YouTube channel all about the stock market and crypto investing with the flair of Walter Mercado. The interesting thing about the YouTube channel is that it still gets to the root of who I am, an entertainer. During this time, I also started dating my girlfriend. When I was between jobs, prior to working at University of Chicago, my girlfriend moved in with me.
Trump's term was running out and Andrew Yang entered the presidential campaign. My girlfriend and I became very inspired by Andrew Yang's positive energy and forward thinking message. After everything I had been through with losing my father and then losing my business from the hurricane, resilience and optimism meant everything to me. It was what pushed me to buy a bass guitar and what pushed me to come to Chicago. I joined the Yang Gang in Chicago, where I met another musician, Ellis Clark, who later helped me get drums recorded for one of my songs.
Not long after, the 2020 pandemic arrived changing everything. My contract with the University ended, the budget got tight, and the environment in the city shifted for the worse. My girlfriend and I moved further away from downtown into a northwest neighborhood into a two-bedroom. For a few months, I focused on polishing up some of my songs in the works. Eventually, I picked up another job with a marketing company in the pharmaceuticals industry as a senior project manager. This helped me to save up cash, put it away into investments, and get more involved in the stock market, crypto market and NFTs.
I worked with that company for about a year and then decided to quit in order to dive headfirst into my own personal projects. Today, I continue to push myself with a strong fire inside to define my own destiny. I am driven to become the best possible independent artist and entertainer I can become, no matter the medium. I want to inspire others, not by showing off a gold necklace or an expensive car. I want people to learn that they can make their money work for them and make their dreams come true.
In November of 2021, on my birthday, I released my first song, "Said Goodbye". I'm writing, performing, producing and managing my own music. What's next? Let's find out, motherfungerz!
The Past
"It's the chapter of Love that we had"
First Song
Said Goodbye
Said Goodbye was initially created in 2010 with an acoustic guitar, a broken heart and some bad lyrics. After Hurricane Maria hit Puerto Rico, I Said Goodbye to the Island that gave me amazing memories and decided to finish the song. This song evolved into a song about moving forward in life. It is about appreciating the past while taking permission to move forward, even for bigger and better things. It's about not letting the past hold you back so that you can celebrate love and life as it happens. While it may have stemmed from a relationship that wasn't meant to be, it has really come to represent all the moments that come and go.